0402 SMD temperature measurement Chip NTC thermistor
There are three types of mainstream NTC thermistor structures on the market.
If arranged according to the time of appearance, it can also be expressed as three generations of products.
• The first generation product is called block ceramic NTC thermistor, and the structure is as follows: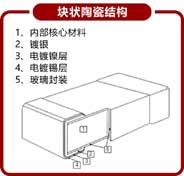 The first product was a block ceramic structure.
The ancient ceramic manufacturing process is used to make brick-size NTC ceramics, and then the precision wire cutting process is used to cut the ceramic bricks into the required package size.
The first generation products are more suitable for manufacturing NTC products with pins and assembled structures, and are not suitable for making NTC products of the chip type.
• The second-generation product is called a multilayer ceramic multilayer NTC thermistor, and its structure is as follows: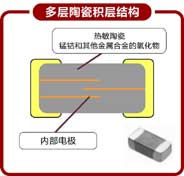 The second generation product structure is based on the MLCC manufacturing process.
This product is a multilayer ceramic structure with internal electrodes, very similar to the structure of MLCC.
It is also used to prepare ceramic flakes, then stack them to form a plate blank and then sinter, and finally sinter the NTC ceramic plate for precision cutting.
• The third-generation ceramic thick film NTC thermistor has the following structure: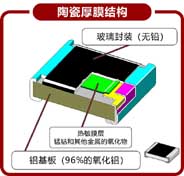 The third-generation NTC thermistor products have undergone drastic changes in structure and manufacturing process.
This product has a thick film structure.
It uses a mature thick film manufacturing process, a layer of thick (30uM) NTC ceramic material is printed on the ceramic substrate, and then it is equipped with a special electrode structure and then sintered.
Products covered:
Specifications: 0402 (1005), 0603 (1608), 0805 (2012);
R25 range: 1.0 × 102Ω-6.8 × 105Ω, the resistance value of the error level of ± 1%, ± 3%, ± 5%, ± 10%;
B25 / 50 value range: 2500K-5000K, B-level error of ± 1%, ± 2%, ± 3%, ± 5%.
| | | | | |
| --- | --- | --- | --- | --- |
| Package Type | L | W | T | M |
| | 0.04±.006(1.0±0.15) | 0.02±.004(0.5±0.10) | 0.024max(0.60max) | 0.004min(0.10min) |
| | 0.063±.006(1.6±0.15) | 0.031±.006(0.8±0.15) | 0.037max(0.95max) | 0.004min(0.10min) |
| | 0.08±.008(2.0±0.20) | 0.05±.008(1.25±0.2) | 0.05max(1.25max) | 0.006min(0.15min) |
| | | 0.063±.008(1.6±0.20) | 0.063max(1.60max) | 0.008min(0.20min) |
NTC chip device main purposes:
Temperature compensation quartz crystal oscillator (TCXO) RF circuit, temperature critical vision device, LCD panel used in mobile communication.
NTC SMD thermistor
LCD temperature compensation circuit.
Temperature detection of rechargeable batteries and chargers.
NTC SMD thermistor
Temperature Detection of Computer Microprocessor.
IC and semiconductor devices overheat protection.
Print head temperature compensation.
Players and a variety of low-power driver circuit protection.
Wired communication program - controlled switches (2 to 4 per line).
DC / AC converters and HIC thermal protection.
The need for temperature compensation of various circuits.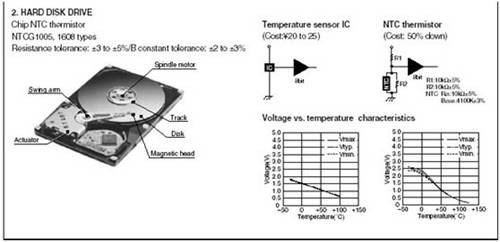 0402 SMD thermistor series
Specifications Model

25℃ Resistance value(KΩ)

B value

A(25/50℃)K

B(25/85℃)K
CMF0402-220□3150A
0.022
3125
 
CMF0402-300□3250A
0.030
3250
 
CMF0402-330□3250A
0.033
3250
 
CMF0402-400□3250A
0.040
3250
 
CMF0402-470□3250A
0.047
3250
 
CMF0402-680□3250A
0.068
3250
 
CMF0402-101□3250A
0.100
3250
 
CMF0402-331□2700A
0.33
2700
 
CMF0402-471□2800A
0.47
2800
 
CMF0402-102□3000A
1.0
3000
 
CMF0402-332□3100A
3.3
3100
 
CMF0402-472□3200A
4.7
3200
 
CMF0402-103□3300A
10
3300
 
CMF0402-103□3380A
10
3380
 
CMF0402-103□3400A
10
3400
 
CMF0402-103□3435B
10
 
3435
CMF0402-103□3900B
10
 
3900
CMF0402-223□3600A
22
3600
 
CMF0402-333□3700A
33
3700
 
CMF0402-333□3950B
33
 
3950
CMF0402-473□3380A
47
3800
 
CMF0402-473□4100B
47
 
4100
CMF0402-683□3970B
68
 
3970
CMF0402-104□3950B
100
 
3950
CMF0402-104□4000B
100
 
4000