When the temperature of the ntc thermistor is low, the number of carriers (electrons and pores) of these oxide materials is small, so its resistance value is high; As the temperature increases, the number of carriers increases, so the resistance value decreases. The variation range of NTC thermistor at room temperature is 10O ~ 1000000 ohm, and the temperature coefficient is -2% ~ -6.5%. NTC thermistor can be widely used in temperature measurement, temperature control, temperature compensation and other aspects.
Many high-tech electronic products require thermistors to perform stable temperature control and temperature measurement functions under ultra-high temperature, ultra-high pressure and other harsh conditions. Most manufacturers blindly pursue the stable performance of NTC thermistors' conventional performance such as accuracy, sensitivity, and drift value. Ignoring the life of the resistor, resulting in the use of electronic products because NTC cannot work for a long time. As a result, all accuracy, sensitivity, high temperature resistance, and so on, become meaningless.
NTC refers to thermistor phenomena and materials that have an exponential relationship that decreases with temperature and has a negative temperature coefficient. The material is a semi-conductor ceramic made by using two or more metal oxides such as manganese, copper, silicon, cobalt, iron, nickel, zinc, and the like, which are thoroughly mixed, formed, and sintered. Can be made into a thermistor with a negative temperature coefficient (NTC). Its resistivity and material constant vary with different material composition ratios, sintering atmosphere, sintering temperature, and structural state. Non-oxide NTC thermistor materials such as silicon carbide, tin selenide, and tantalum nitride have also appeared.
The working principle of the NTC chip thermistor is this. It is precisely because of these principles that this type of resistance has become an indispensable key for many ranges. After all, this type of resistor has a strong performance whether it is temperature measurement, temperature control or temperature compensation.
Products covered:
Specifications: 0402 (1005), 0603 (1608), 0805 (2012);
R25 range: 1.0 × 102Ω-6.8 × 105Ω, the resistance value of the error level of ± 1%, ± 3%, ± 5%, ± 10%;
B25 / 50 value range: 2500K-5000K, B-level error of ± 1%, ± 2%, ± 3%, ± 5%.
| | | | | |
| --- | --- | --- | --- | --- |
| Package Type | L | W | T | M |
| | 0.04±.006(1.0±0.15) | 0.02±.004(0.5±0.10) | 0.024max(0.60max) | 0.004min(0.10min) |
| | 0.063±.006(1.6±0.15) | 0.031±.006(0.8±0.15) | 0.037max(0.95max) | 0.004min(0.10min) |
| | 0.08±.008(2.0±0.20) | 0.05±.008(1.25±0.2) | 0.05max(1.25max) | 0.006min(0.15min) |
| | | 0.063±.008(1.6±0.20) | 0.063max(1.60max) | 0.008min(0.20min) |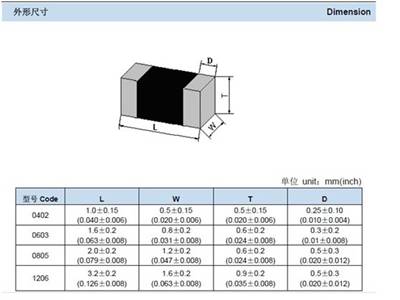 NTC chip device main purposes:
Temperature compensation quartz crystal oscillator (TCXO) RF circuit, temperature critical vision device, LCD panel used in mobile communication.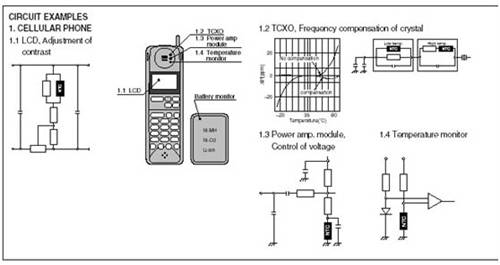 NTC SMD thermistor
LCD temperature compensation circuit.
Temperature detection of rechargeable batteries and chargers.

NTC SMD thermistor
Temperature Detection of Computer Microprocessor.
IC and semiconductor devices overheat protection.
Print head temperature compensation.
Players and a variety of low-power driver circuit protection.
Wired communication program - controlled switches (2 to 4 per line).
DC / AC converters and HIC thermal protection.
The need for temperature compensation of various circuits.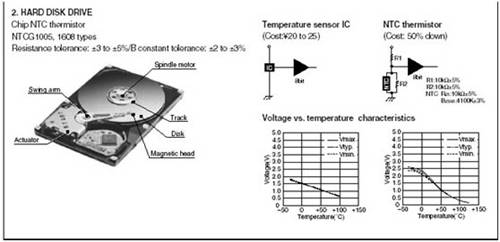 0603 SMD thermistor series
Specifications Model
25℃ Resistance value(KΩ)
B value
A(25/50℃)K
B(25/85℃)K
0603-300□3200A
0.030
3200
 
0603-400□3200A
0.040
3200
 
0603-470□3200A
0.047
3200
 
0603-101□3250A
0.100
3250
 
0603-101□2750B
0.100
 
2750
0603-121□2750B
0.120
 
2750
0603-151□2750B
0.150
 
2750
0603-151□3000B
0.150
 
3000
0603-181□2750B
0.180
 
2750
0603-201□2750B
0.200
 
2750
0603-221□2750B
0.220
 
2750
0603-221□3000B
0.220
 
3000
0603-221□3250A
0.220
3250
 
0603-301□3000B
0.30
 
3000
0603-331□3000B
0.33
 
3000
0603-471□3000B
0.47
 
3000
0603-501□3000B
0.50
 
3000
0603-561□3000B
0.56
 
3000
0603-681□3000B
0.68
 
3000
0603-102□3200B
1.0
 
3200
0603-202□3100B
2.0
 
3100
0603-202□3150B
2.0
 
3150
0603-222□2800B
2.2
 
2800
0603-222□3150B
2.2
 
3150
0603-222□3950B
2.2
3950
 
0603-302□3150B
3.0
 
3150
0603-302□3200B
3.0
 
3200
0603-332□2800B
3.3
 
2800
0603-332□3150B
3.3
 
3150
0603-332□3200A
3.3
3200
 
0603-472□3300A
4.7
3300
 
0603-472□3340B
4.7
 
3340
0603-502□3300A
5.0
3300
 
0603-502□3340B
5.0
3340
 
0603-103□3380A
10.0
3380
 
0603-103□3435B
10.0
 
3435
0603-103□3450B
10.0
 
3450
0603-103□3500A
10.0
3500
0603-103□3500B
10.0
 
3500
0603-103□3550B
10.0
 
3550
0603-103□3610B
10.0
 
3610
0603-103□3700B
10.0
 
3700
0603-103□3970B
10.0
 
3970
0603-123□3550B
12.0
 
3550
0603-203□3800B
20.0
 
3800
0603-223□3800A
22.0
3800
 
0603-223□3800B
22.0
 
3800
0603-223□3900B
22.0
 
3900
0603-223□4000B
22.0
 
4000
0603-303□3900B
30.0
 
3900
0603-333□3800A
33.0
3800
0603-333□3800B
33.0
 
3800
0603-333□3900B
33.0
 
3900
0603-333□3950B
33.0
 
3950
0603-403□3950B
40.0
 
3950
0603-473□3800B
47.0
 
3800
0603-473□3900A
47.0
3900
0603-473□3950B
47.0
 
3950
0603-493□3950B
49.0
 
3950
0603-503□3950B
50.0
 
3950
0603-513□3950B
51.0
 
3950
0603-683□3950B
68.0
 
3950
0603-683□4000A
68.0
4000
 
0603-104□3950B
100.0
3950
3950
0603-104□4000A
100.0
4000
 
0603-104□4000B
100.0
4000
 
0603-104□4100A
100.0
4100
 
0603-104□4400B
100.0
 
4400
0603-154□4000B
150.0
 
4000
0603-204□3950B
200.0
 
3950
0603-224□3950B
220.0
 
3950
0603-304□4055B
300.0
 
4055
0603-334□4000B
330.0
 
4000
0603-374□4000B
370.0
 
4000
0603-404□4100B
400.0
 
4100
0603-474□4100B
470.0
 
4100
0603-504□4100B
500.0
 
4100
0603-564□4100B
560.0
 
4100
0603-105□4200B
1000.0
 
4200
0603-205□4300B
2000.0
 
4300
0603-505□4400B
5000.0
 
4400