High temperature precious metal thermocouple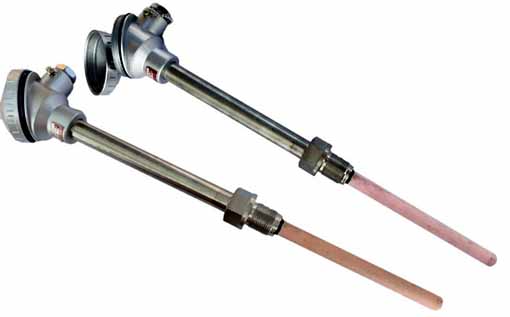 1. Application of precious metal thermocouple
It is suitable for a variety of high temperature occasions in the production process, and is widely used in temperature measurement of glass, ceramics and industrial salt bath furnaces.
2. Technical parameter table of precious metal thermocouple
   Electrical outlet: M20x1.5, NPT1/2
  Accuracy grade: I, II
  Protection level: IP65
   Even wire diameter: Φ0.5
   Nominal pressure: normal pressure
Thermocouple
Temperature measuring element
Mark
Outer protection tube
Operating temperature
Work pressure
Material
diameter
S
Single or double thermocouple
T1
85% Al2O3
Φ16
Φ25
(Double-layer outer tube)
0~1450℃
Constant pressure
R
T2
99% Al2O3
1600℃
B
T2+
99.7% Al2O3
Uses and characteristics
Suitable for high temperature oxidizing gas. Sudden cold and hot are easy to crack. Not suitable for use in sulfur or hydrogen.
3. Selection table
model
Index number
Temperature measurement range ℃
Protection tube material
Thermal response time
specification
d
L x l
WRP-130
WRP2-130
S
0-1300
High aluminum
<150S
Φ16
300x150
350x200
400x250
450x300
550x400
650x500
900x750
1150x1000
1650x1500
2150x2000
WRP-131
WRP2-131
<360S
Φ25
WRQ-130
WRQ2-130
R
0-1300
<150S
Φ16
WRQ-131
WRQ2-131
<360S
Φ25
WRR-130
WRR2-130
B
0-1600
Corundum tube
<150S
Φ16
WRR-131
WRR2-131
<360S
Φ25