SMD2920 PPTC AC resettable fuse
Resettable fuse is an overcurrent electronic protection component.
High molecular weight organic polymer is used under high pressure, high temperature, and vulcanization reaction conditions. After doping with conductive particle material, it is processed by special technology.
Traditional fuse overcurrent protection, protection only once, blown in need of replacement, but resettable fuse with the flow overheating protection, automatic recovery dual function.
working principle
Resettable fuse, is specially treated by the polymeric resin (Polymer) and distribution, in the inside of the conductive particles (Carbon Black) composition.
Under normal operation, the polymer resin tightly binds the conductive particles outside the crystalline structure to form a chain-shaped conductive electrical path.
At this time, the resettable fuse is in a low-resistance state, and the thermal energy generated by the current flowing through the resettable fuse on the line is small, and the crystal structure will not be changed.
When the circuit is short-circuited or overloaded, the large current flowing through the resettable fuse, the heat generated will melt the polymer resin, the volume will increase rapidly, and a high-resistance state will be formed (b), and the working current will decrease rapidly, thereby limiting and protecting the circuit
.
When the fault is removed, the self-recovery fuse re-cools and crystallizes, the volume shrinks, and the conductive particles form a conductive path again.
The self-recovery fuse is restored to the low resistance state, thereby completing the protection of the circuit without manual replacement.
Applications: All high-density circuit boards
Features: Surface mount components, faster than ordinary SMD fuse action
Operating current: 0.3A ~ 3A
Operating temperature range: -40 ℃ to 85 ℃
Lead-free, halogen-free environmentally friendly products, RoHS and REACH standards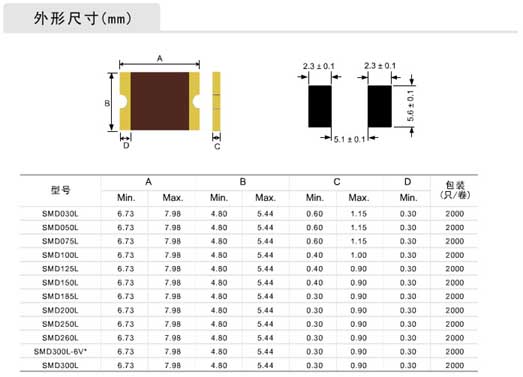 Electrical characteristics of products (25℃)
Model
Vmax
Imax
Ih
It
Pd
Time to trip
Resistance
V
A
A
A
W
Current(A)
Time(s)
Rmin(Ω)
R1max(Ω)
SMD2920P030TF
60.0
10
0.30
0.60
1.5
1.5
3.0
1.000
5.000
SMD2920P050TF
60.0
20
0.50
1.00
1.5
2.5
4.0
0.350
1.300
SMD2920P075TF
30.0
40
0.75
1.50
1.5
8.0
0.3
0.300
1.000
SMD2920P100TF
30.0
40
1.00
2.00
1.5
8.0
0.5
0.100
0.400
SMD2920P125TF
15.0
40
1.25
2.50
1.5
8.0
2.0
0.080
0.300
SMD2920P150TF
15.0
40
1.50
3.00
1.5
8.0
2.0
0.050
0.230
SMD2920P185TF
15.0
40
1.85
3.70
1.5
8.0
2.5
0.040
0.130
SMD2920P200TF
15.0
40
2.00
4.00
1.5
8.0
4.5
0.030
0.100
SMD2920P250TF
8.0
40
2.50
5.00
1.5
8.0
16.0
0.025
0.085
SMD2920P260TF
8.0
40
2.60
5.20
1.5
8.0
20.0
0.025
0.075
SMD2920P300TF
6.0
40
3.00
6.00
1.5
8.0
20.0
0.020
0.060
| | |
| --- | --- |
| Sign | Definition |
| Ih | Hold current-maximum current at which the device will not trip at 25℃ |
| It | Trip current-minimum current at which the device will always trip at 25℃ |
| Vmax | Maximum voltage at which the device will not trip |
| Vmaxi | Maximum voltage device can withstand without damage at it rated current |
| Imax | Maximum fault current device can withstand without damage at rated voltage |
| Rmin | Minimum device resistance at 25℃ prior to tripping |
| Rmax | Maximum device resistance at 25℃ prior to tripping |
| Figure | The Figure of PTC |
| Lead | Lead diameter |