Platinum resistance temperature sensor manufacturer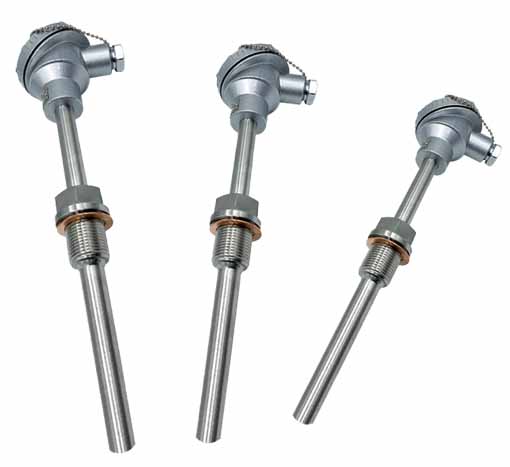 The platinum resistance temperature sensor (RTD) uses the characteristic of metal platinum to change its own resistance when the temperature changes to measure temperature.
The display instrument will indicate the temperature value corresponding to the resistance value of the platinum resistance thermometer.
When there is a temperature gradient in the measured medium, the measured temperature is the average temperature in the medium layer within the range where the temperature sensing element is located.
Application range of platinum resistance sensor
The platinum resistance temperature sensor is a temperature sensor used to measure air, soil and water. The sensor consists of a precision platinum thermal resistance element and a protective cover treated by a special process, and a four-core shielded signal cable is led out from the sensitive element for measurement. The four-wire measurement method can usually be used to reduce the measurement error caused by the wire resistance. Platinum resistance temperature sensors have excellent interchangeability and long-term stability, and are widely used in meteorological and environmental protection departments.
The main advantages of platinum resistance sensors
Wide temperature measurement range: Due to the stable characteristics of platinum, it will not cause physical or chemical changes due to high and low temperatures.
The platinum resistance temperature sensor is a temperature sensor made by using its resistance and temperature as a certain function. Because the characteristic curve of platinum resistance is non-linear, the standard relationship between resistance and temperature is given in the form of a graduation table, and is represented by the resistance-temperature polynomial function R(t). But in actual measurement, using temperature-resistance function T(r) is more convenient for measurement and calculation. A method of using cubic basic spline curve fitting to obtain the temperature-resistance polynomial function T(r) is introduced. Practical use shows that the calculation speed of this method is fast, the error produced is small, and the operating speed and control accuracy of the temperature measurement and control system can be improved.
Platinum resistance sensors have good long-term stability. Typical experimental data is: 300 hours at 400°C, and the maximum temperature drift at 0°C is 0.02°C.
Platinum resistance temperature sensors are often used in protective equipment.
| | | |
| --- | --- | --- |
| Series | Picture | Introduction |
| STT-R | | The STT-R series platinum resistance temperature sensor is packaged in a stainless steel case. It is filled with heat-conducting material and sealing material and is potted with small size and good waterproof performance. It is widely used in temperature measurement of liquid, gas, freezing and cold storage, medical and health, aerospace, environment, etc. |
| STT-S | | STT-S series temperature sensor is suitable for measuring the surface and internal temperature of metal equipment. By lengthening the thread, the temperature of the bearing and the bearing bush can also be measured, and the installation is simple and convenient |
| STT-T | | The STT-T series temperature sensor is packaged in a stainless steel shell, filled with thermal conductive material and sealing material, and has a small size. Suitable for temperature measurement of precision instruments, constant temperature equipment, fluid pipelines, etc. |
| STT-C | | STT-C series sensors use standard connectors, which are convenient for on-site connection and maintenance. Suitable for temperature measurement of medical instruments, portable instruments, etc. |
| STT-H | | The STT-H series platinum resistance temperature sensor is packaged in a stainless steel shell, filled with thermal conductive material and sealing material. Suitable for temperature measurement of water temperature, air temperature, freezing and cold storage, etc. |
| STT-P | | The STT-P series temperature sensor is packaged in a stainless steel case and the head is a pointed structure. It is suitable for medical experiments and occasions where food needs to be penetrated into the internal temperature measurement. It should be noted that the tip of the needle is a non-temperature-sensitive area, and the temperature-sensitive area is 5mm behind it. When measuring temperature, be sure to penetrate enough depth to ensure the accuracy of temperature measurement |