PPTC Resettable Fuses model 0805
PTC Thermistor Application Protection Ballast
Fluorescent lamps require a ballast that generates high voltage and current to light.
The ballast controls the electrical characteristics of the fluorescent lamp.
When the lamp is turned on, the electronic ballast generates high-voltage impact at both ends of the lamp to light the lamp.
A self-oscillating circuit is formed in the electronic ballast, which is controlled by a transistor.
Many electronic ballasts, is due to the failure of the lamp occurs.
When the lamp is short-circuited, reaches the end of its life, or when the lamp is taken off, an overcurrent condition will occur, which will cause the cathode of the lamp to open.
Due to the power factor, the load resistance becomes low.
During starting, the ballast works more than three times under abnormal working current and high oscillation frequency;
The switching circuit generates overcurrent and causes the ballast to malfunction.
Resettable fuse can provide protection and failure protection transistors when the lamp life is reached.
Because the ballast often fails because the upper and lower voltage switches of the transistor are turned on at the same time, it is of great significance to protect the transistor from failure.
First of all, the resettable fuse has the function of self-recovery, which can reduce the number of product repairs and services, thereby reducing costs.
Secondly, since the resettable fuse can operate in a very short time to protect some of the more sensitive resistors in the circuit, the reliability and service life of the ballast can be improved.
third,
The power consumption of the resettable fuse is very low, and it will not consume extreme energy under normal current operation.
Under normal operating current, the resistance is very small (usually only a few ten ohms) and therefore does not form an oscillating circuit.
Fourth, the resettable fuse has a small volume and a small space on the circuit board, which is convenient for design.
Applications: All high-density circuit boards
Features: Surface mount components, faster than ordinary SMD fuse action
Operating current: 0.1A ~ 1.25A
Operating temperature range: -40 ℃ to 85 ℃
Lead-free, halogen-free environmentally friendly products, RoHS and REACH standards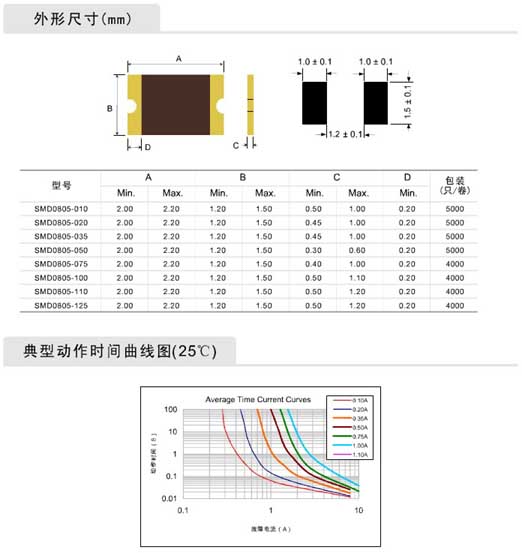 Performance specification (25℃)
Model
Vmax
Imax
Ih
It
Pd
Time to trip
Resistance
V
A
A
A
W
Current(A)
Time(s)
Rmin(Ω)
R1max(Ω)
SMD0805P005TF
16.0
100
0.05
0.15
0.5
0.25
1.50
2.000
10.000
SMD0805P010TF
16.0
100
0.10
0.30
0.5
0.5
1.50
1.000
6.000
SMD0805P020TF
9.0
100
0.20
0.40
0.5
8.0
0.02
0.650
3.500
SMD0805P025TF
9.0
100
0.25
0.50
0.5
8.0
0.02
0.600
3.000
SMD0805P035TF
6.0
100
0.35
0.70
0.6
8.0
0.10
0.250
1.200
SMD0805P050TF
6.0
100
0.50
1.00
0.6
8.0
0.10
0.150
0.850
SMD0805P075TF
6.0
40
0.75
1.50
0.8
8.0
0.20
0.090
0.385
SMD0805P100TF
6.0
100
1.00
2.00
0.8
8.0
0.30
0.060
0.230
SMD0805P110TF
6.0
100
1.10
2.20
0.8
8.0
0.30
0.060
0.210
| | |
| --- | --- |
| Sign | Definition |
| Ih | Hold current-maximum current at which the device will not trip at 25℃ |
| It | Trip current-minimum current at which the device will always trip at 25℃ |
| Vmax | Maximum voltage at which the device will not trip |
| Vmaxi | Maximum voltage device can withstand without damage at it rated current |
| Imax | Maximum fault current device can withstand without damage at rated voltage |
| Rmin | Minimum device resistance at 25℃ prior to tripping |
| Rmax | Maximum device resistance at 25℃ prior to tripping |
| Figure | The Figure of PTC |
| Lead | Lead diameter |