Motor Coil Winding Overheat Protection PTC Thermistor KTY81, KTY82
PTC thermistors for overtemperature protection
The need for continuous operation in the production of lathes, Electric oven,Ball mushrooms and other mechanical and electrical equipment and other unattended equipment. Due to motor overheating or temperature control failure caused by the accident more common,Use PTC thermistor for motor overheat protection can effectively prevent accident.
Overheat protection of the motor is commonly used in the stator winding of the motor buried in a small sensor with a PTC thermistor temperature sensing head. Under normal circumstances the motor thermal protection PTC thermistor in a low resistance state, Does not affect the normal operation of the motor. When the motor internal overheating due to failure,Motor thermal protection with PTC thermistor thermal resistance jump, With the relay power loss release, Motor to stop running, Wait for troubleshooting before re-running. The advantage of this method of protection is to directly monitor the temperature changes within the winding. The motor is protected before the superheat temperature breaks through the insulation level of the motor. At the same time due to the TC thermistor can be restored, It is not necessary to replace the fuse resistor.
product description
PTC thermistor for overheating protection Product overview
SCRBH temperature control PTC thermistor using PTC thermistor in the Curie temperature above the sudden increase in the resistance value of the characteristics,
When the ambient temperature is abnormally high,
The protection circuit with the PTC thermistor turns on or off the circuit by changing the resistance value,
To protect the purpose of the component.
SCRBH temperature control PTC thermistor main parameters
Protection temperature point TS (℃)
Rated zero power resistance R25 (Ω)
Resistance value at protection temperature (Rs, Min)
Protection temperature -15 ℃ Resistance value (RS-15, Max)
1. SCRBH temperature-controlled PTC thermistor products in two forms: A-lead type, B-surface mount type
2. Protection temperature range: 60 ~ 130 ℃
3. Fast reaction time
4. Long-term stability
5. Small size, easy installation
6. Product overheating protection does not need to set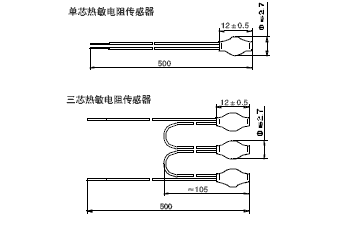 Applications:
The product is widely used in the need for over-temperature protection of the occasion. The product is installed in the need for over-temperature protection equipment, PTC resistance signal to the motor protector. When the temperature close to the insulation temperature rating temperature, The motor protector turns off the circuit for protection.
Features:
Made by ultra-small PTC thermistor, small volume, long life, Stability, High sensitivity. Technical indicators have reached the international level of similar products.
use
Can be single-use,Can also be used in series only, In the same circuit to control the temperature of different points.
Technical data
The control temperature range is Tk60 ℃ ~ Tk180 ℃.
The control temperature Tk is set to one specification at 5 ° C intervals.
One to six core can be produced in accordance with the requirements of users,
SCRBHC series of German DIN 44080, DIN 44081, DIN 44082 standards.
Standard Lead Length DS: 520 200 200 520 DK 520 520 (Unit: mm)
Conventional Type:
PTC Thermistor parameter data
ES Series (single core)
DS Series (three-core)
unit
Maximum operating voltage
Umax

25

25

V

Rated operating temperature
Tk

60~180

60~180

℃

Tk tolerance
 

±5

±5

℃

Tk Repeatability
ΔT

±0.5

±0.5

℃

Rated resistance value
R25℃±1℃

≤100

≤300

Ω

Lower limit temperature control point (V≤2.5V)
TK-5(℃)

≤550

≤1650

Ω

Upper limit temperature point (V≤2.5V)
TK+5(℃)

≥1330

≥3990

Ω

Protection temperature +15 ℃ resistance
TK+15(℃)

≥4

≥12

KΩ

Thermal response time
Ts

≤5

≤5

S

Insulation withstand voltage
V

2.5

2.5

KV

Wire tension
 

Bear 10N, 10S tension without damage

Bear 10N, 10S tension without damage

N

Maximum storage temperature
TLmax

160

160

℃

Minimum storage temperature
TLmin

-25

-26

℃
working principle
The PTC thermistor has a positive temperature coefficient resistance characteristic. When the temperature reaches its Curie point, Semiconductor ceramic phase transformation began, Its resistance increases with the temperature and rapid increase. In the vicinity of the control temperature point Tk,The change is particularly evident, Thereby serving as a control circuit