WMZ11A PTC thermistor Parameters Table
1. Scope of application:
WMZ11A PTC thermistor is used in various fluorescent electronic ballasts and electronic energy-saving lamps without changing the wiring.
The appropriate thermistor can be directly connected across the resonant capacitor of the lamp tube, and the hard start of the electronic ballast and the electronic energy-saving lamp can be changed to be a warm-up start.
Allowing the filament to warm up for 0.4 to 2 seconds can extend the life of the lamp by more than three times.
2. Features:
WMZ11A PTC thermistor is made of PTC characteristics of materials. It has small volume, high withstand voltage, long life and low power consumption during normal operation.
3. Application principle:
The WMZ11A PTC thermistor uses the PTC thermistor to achieve the warm-up startup principle as shown on the right:
When the switch is just turned on, R t is in the normal temperature state, its resistance value is far lower than the C 2 resistance value, and the current jumps into the high resistance state through the C 1 , R t self-heating temperature exceeding the Curie point temperature T c .
Its resistance is much higher than the value of C 2 , and the current forms a loop through C 1 and C 2 to cause LC resonance, which produces a high-voltage lighting lamp.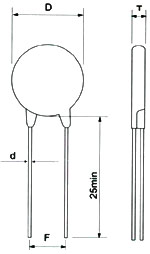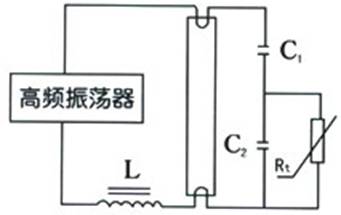 Shape and size
Application circuit diagram
6. Product logo description:

Note: 1 model
2Switching temperature 50-50°C 75-75°C 85-85°C 105-105°C 120-120°C
3 type code
S-Micro-miniature A-Basic HV-High pressure type
4 rated zero power resistance 102-1000Ω 68R-68Ω
5 resistance tolerance
N-±30% V-±25% M-±20% K-±10% X-Other
6 lead shape
U-inner bend S-straight A-axis bend
| | | | | |
| --- | --- | --- | --- | --- |
| Type code | Dmax | Tmax | F±1 | d±0.05 |
| S | 4 | 4.5 | 5 | 0.5 |
| L | 5 | 4.5 | 5 | 0.6 |
| A | 6 | 4.5 | 5 | 0.6 |
| HV | 6 | 5 | 5 | 0.6 |
| B | 8 | 4.5 | 5 | 0.6 |
| BHV | 8 | 5 | 5 | 0.6 |
The main technical parameters
Serial number
model
Rated zero power resistance value (Ω)
Withstand voltage (VAC)
Maximum repeatable on/off current (mA)
Flow resistance (mA)
Switching temperature (°C)
Dimensions (mm
Dmax
Tmax
d
01
WMZ11A-50S68RNU
68±30%
360
200
300
50±7
4
4.5
0.5
02
WMZ11A-50S101NU
100±30%
400
03
WMZ11A-50S151NU
150±30%
400
04
WMZ11A-50S221NU
220±30%
500
05
WMZ11A-50S331NU
330±30%
600
06
WMZ11A-50S471NU
470±30%
600
07
WMZ11A-50S681NU
680±30%
600
08
WMZ11A-50S102NU
1000±30%
600
09
WMZ11A-50S152NU
1500±30%
600
140
210
10
WMZ11A-50S222NU
2200±30%
600
90
135
11
WMZ11A-50S332NU
3300±30%
600
60
90
12
WMZ11A-50S472NU
4700±30%
600
40
60
13
WMZ11A-75S68RNU
68±30%
360
200
300
75±7
14
WMZ11A-75S101NU
100±30%
400
15
WMZ11A-75S151NU
150±30%
400
16
WMZ11A-75S221NU
220±30%
500
17
WMZ11A-75S331NU
330±30%
500
18
WMZ11A-75S471NU
470±30%
500
19
WMZ11A-75S681NU
680±30%
600
20
WMZ11A-75S102NU
1000±30%
600
21
WMZ11A-75S152NU
1500±30%
600
140
210
22
WMZ11A-75S222NU
2200±30%
600
90
135
23
WMZ11A-75S332NU
3300±30%
600
60
90
24
WMZ11A-75S472NU
4700±30%
600
40
60
25
WMZ11A-105S68RNU
68±30%
360
180
270
105±7
26
WMZ11A-105S101NU
100±30%
400
27
WMZ11A-105S151NU
150±30%
400
28
WMZ11A-105S221NU
220±30%
400
29
WMZ11A-105S331NU
330±30%
500
30
WMZ11A-105S471NU
470±30%
500
31
WMZ11A-105S681NU
680±30%
600
32
WMZ11A-105S102NU
1000±30%
600
33
WMZ11A-105S152NU
1500±30%
600
140
210
34
WMZ11A-105S222NU
2200±30%
600
90
135
35
WMZ11A-120S68RNU
68±30%
360
180

270
120±7
36
WMZ11A-120S101NU
100±30%
400
37
WMZ11A-120S151NU
150±30%
400
38
WMZ11A-120S221NU
220±30%
400
39
WMZ11A-120S331NU
330±30%
500
40
WMZ11A-120S471NU
470±30%
500
41
WMZ11A-120S681NU
680±30%
600
42
WMZ11A-120S102NU
1000±30%
600