SPMZB self-recovery fuse PTCR
What is the difference between PTC resettable fuses and overcurrent protection devices such as ordinary fuses, ceramic resettable fuses?
The biggest difference between PTC and ordinary fuses is their self-healing characteristics. Both can provide over-current protection, but once the ordinary fuse is blown, it must be replaced to ensure the normal operation of the line; The PTC has self-recovery characteristics and can provide many times of overcurrent protection. Both PTC and ceramic resettable fuses are resettable fuses. The main differences are their initial resistance, response time, and size. The specific case of using PTC, ordinary fuse, or ceramic resettable fuse should be considered based on the actual circuit protection solution and the customer's needs.


I. Overview
SPMZB Series PTC thermistor is an automatic protection, Automatic recovery, non-contact, no noise, No spark of the "million times fuse"Or "self-recovery fuse". Is the second "temperature fuse" and "temperature switch" after the launch of the third generation of protection devices. Applicable to multimeter, charger, small transformers, smart meter, digital multimeter, micro-motor, Small electronic instruments and other lines do flow, overheating protection.
Second, the application example and outline drawing
Application principle as shown below:The PTCR series in the load circuit, When the circuit is in normal working condition, The current through the PTCR does not exceed the rated current that does not exceed the PTCR maximum non-operating current, TCR in the normal state, Resistance is small, Will not affect the normal operation of the protected circuit. When the circuit fails, The current greatly exceeds the rated current, PTCR sudden fever, High impedance state, So that the circuit is relatively "off" state, To protect the purpose.When troubleshooting, PTCR automatically resume normal work.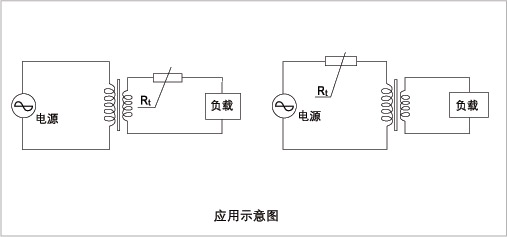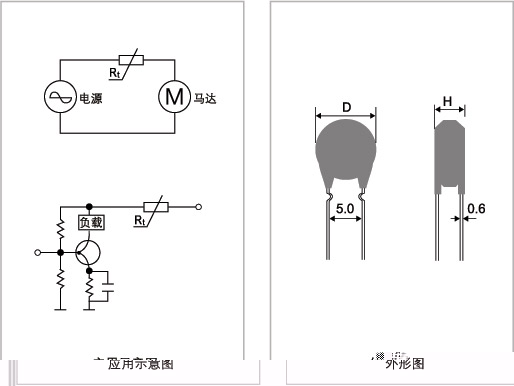 SPMZB Series Recovery Fuse Product Specification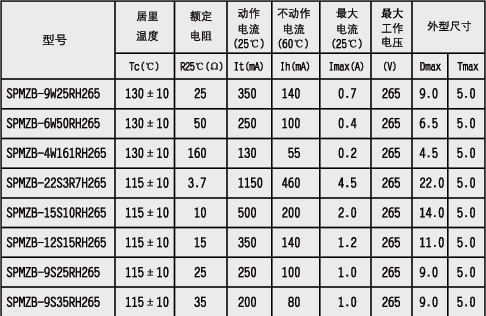 Note:
1. With the * model number has been UL certification, UL certification number is: E236869;
2. In addition to the specifications listed in the table above, Users can request the design and production of other specifications of the PTC thermistor.
3.SPMZB series PTC thermistor has made on the ROHS restrictions of six toxic, SGS test report on harmful substance content.