Industrial platinum thermal resistance sensor
1,

Application of industrial platinum thermal resistance sensor
It is usually used in conjunction with display instruments, recording instruments, and electronic calculations. Directly measure the surface temperature of liquid, steam and gas medium and solid surface in the range of -200°C~500°C in the production process.
2, Features of industrial platinum thermal resistance
• Compression spring type temperature sensing element, good anti-vibration performance;
• No need to compensate the wire, saving cost;
•High temperature measurement accuracy;
• High mechanical strength, good pressure resistance;
•Imported thin-film resistor elements with stable performance.
3. The working principle of industrial platinum thermal resistance
Thermal resistance uses the characteristics of a substance that changes in temperature and its resistance changes with it to measure temperature. When the resistance value changes, the working instrument will display the temperature value corresponding to the resistance value.
4. The main technical parameters of industrial platinum thermal resistance
Product performance standards
IEC751
JB/T18622-1997
JB/T8623-1997
5. Insulation

resistance at room temper

ature

The temperature of the platinum thermal resistance is 15-35°C, the relative humidity is not more than 80%, and the test voltage is 10-100V (DC). The insulation resistance between the electrode and the outer tube>100MΩ.
6. Measuring range and tolerance of platinum thermal resistance
Model number
Index number
Temperature range
Accuracy class
Allowable error
WZP
Pt100
-200-+500
Class A
±(0.15+0.002) ltl
Class A
±(0.30+0.005) ltl
WZC
Cu50 Cu100
-50-+100
---
±(0.30+0.005) ltl
7. Junction box form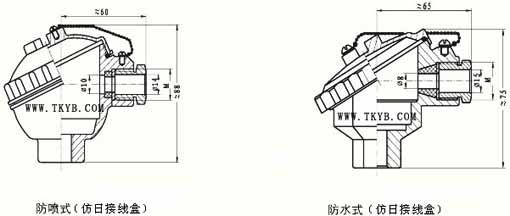 8. Model naming method of industrial platinum thermal resistance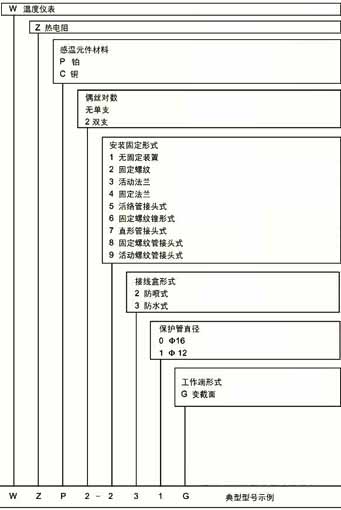 9. Temperature sensing element of industrial platinum thermal resistance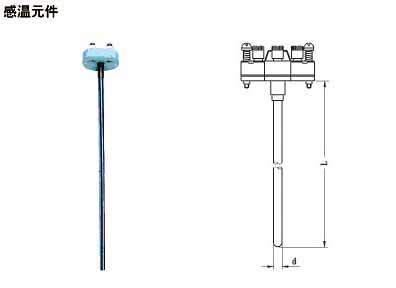 Name
Model number
Index number
Temperature measurement range
specification
d
L
Single platinum thermal resistance
WZP-101
Pt100
-200-500°C
Ø3
Ø4
Ø5
Ø6
310
360
410
460
510
560
Double platinum thermal resistance
WZP2-101
Wiring method of industrial platinum thermal resistance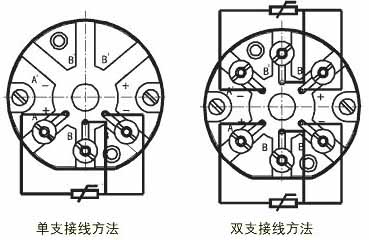 10. Assembly thermal resistance selection table
| | |
| --- | --- |
| | |
| No fixed device thermal resistance, selection table | Fixed thread type thermal resistance, selection table |
| | |
| Movable flange type thermal resistance, selection table | Fixed flange type thermal resistance, selection table |