End face platinum thermal resistance sensor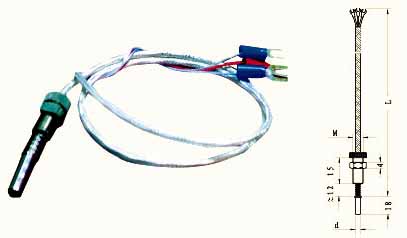 1. Application of end-face thermal resistance sensor
It is suitable for measuring the surface temperature of steam turbine and motor bearing bush or other body in power plant.
2. The main technical parameters of the end face thermal resistance sensor
Accuracy grade: A, B grade
Nominal pressure: normal pressure
3. The model and specification of the end surface thermal resistance sensor
model
Index number
Temperature measurement range ℃
Thermal response time
specification
L ( mm)
d(mm)
M(mm)
WZCM-201

Cu50

Cu100

0-100
≤100m/s
Φ6
M8x0.75

500
1000
1500
2000
2500

WZPM-201
Pt100
-150-+200
≤6s
Φ8.7
M10x1
The thermal resistance class A is ordered according to the agreement.
4. Installation form of end face thermal resistance sensor