Different Resistance Models Underwater Engine Temperature Sensor manufacturer
Water temperature sensor is damaged phenomenon
1. In the ON position, the engine fault light is always on.
2. The water temperature in the ON position always shows a maximum value of 120 ° C.
3. The engine has limited torque and is weak.
4, fault code: PO03D (water temperature sensor voltage is lower than the lower limit).
Cause analysis: The water temperature sensor is invalid. When the ECU detects that the output signal of the water temperature sensor is unreliable, the substitute value is used. The ECU limits the engine torque for the purpose of protecting the engine.
Solution: Check the water temperature sensor and replace it.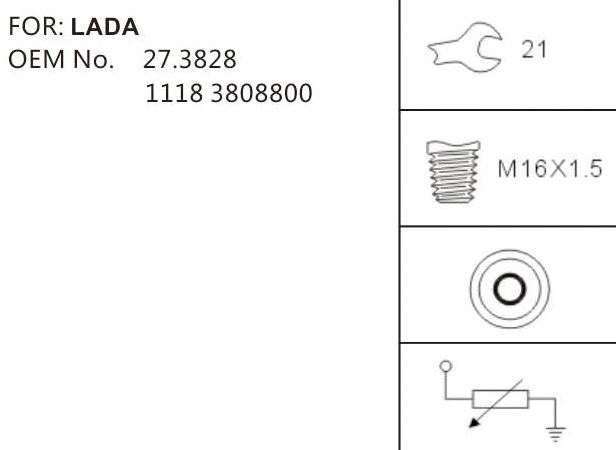 Motor coolant (water) temperature sensor
The diesel generator, the sensor is located on the front right cylinder, its function is to control the fan rotation, adjust the starting fuel supply, control the injection timing and engine protection. The normal diesel generator's operating range is -40-140 ° C. Failure of the sensor will result in lower engine speed and power reduction, difficulty in starting, and the generator will shut down. If the diesel generator is designed with protection function, then the temperature sensor, the thermal sensor two wires, the two-wire sensor power line and the guard line and two wires are provided. Thermistor means that the resistance value will decrease with increasing temperature. Therefore, we can use a multimeter to test the resistance value of the temperature sensor of the plug and compare it with the normal value if the temperature sensor works normally. The temperature sensors listed here are normal ranges of parameters applicable to all other joint venture diesel generator series temperature sensors. In general, Huaquan Power Equipment Co., Ltd. uses authentic imported VDO sensors, which have higher sensitivity and stable performance.
2.Fuel temperature sensor of diesel generator
The sensor is mounted on the top of the fuel filter inner casing.
Its function is to control the fuel heater and protect the diesel generator through sensor signals.
Its working range is -40 ℃ -140 ℃.
Sensor failure can affect engine performance.
Its maintenance method is the same as the coolant temperature sensor.
3. Diesel generator, air pressure sensor
The sensor is installed in the diesel generator ECM800.
Its function is to make the sensor's signal to determine the current atmospheric pressure.
4. Diesel generator speed sensor (crankshaft speed sensor)


The sensor is installed in the front gear housing of the diesel generator. Its function is to test the pulse Ge and calculate the engine speed and control the oil supply.

Failure of the diesel generator sensor will cause insufficient power, unstable idling, white smoke emission, and difficulty in starting or closing.