Anticorrosive thermal resistance sensor

1. Application of anticorrosive thermal resistance sensor
New anti-corrosion material is adopted, and the outer covering is PTFE F46. It is suitable for temperature measurement in various corrosive media in petrochemical industry. It is a commonly used temperature measuring instrument in the chlor-alkali industry.
2. The main technical parameters of the anti-corrosion thermal resistance sensor
   Electrical outlet: M20x1.5, NPTI1/2
   Thermal response time: ≤8S
  Protection level: IP65
  Explosion-proof grade: d‖BT4.d‖CT5
Thermal resistance
Components for temperature measurement
Outer protection sleeve
Corrosion-resistant protection tube
Operating temperature
Work pressure
PT100
Single or double
316L+F46
PTFE
(Wall thickness 1.2mm) Enamel
0~300℃
Ordinary pressure
Uses and characteristics
   is suitable for temperature measurement in chemical industry with strong corrosive acidic substances.
3. Model and specification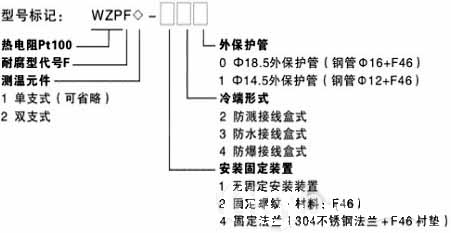 Model number
Index number
Temperature measurement range ℃
Thermal response time
Material of protection tube
specification
d
L x l mm
WZPF-130
WZPF2-130
Pt100
-200~250
≤80S
1Cr18Ni9Ti
Φ16
300x150
350x200
450x300
500x350
550x400
650x500
750x600
1000x850
WZCF-130
WZCF2-130
Cu50
Cu100
0-150
WZPF-430
WZPF2-430
Pt100
-200~250
WZCF-430
WZCF2-430
Cu50
Cu100
0-150
1) The platinum thermal resistance class I is ordered according to the agreement;
2) The remaining materials of the protection tube are ordered according to the agreement.